Hummingbird Feeder With Perch And Built-in Ant Moat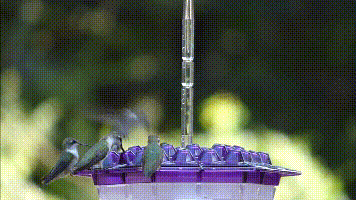 This feeder has been making quality bird feeders since 1987 and they are still the best!
We have been making these great feeders for 34 years now and our hummingbird feeders have stood the test of time. The NJ-1 works better than any other feeder because we use hexagonal raised diamond geometry of ports that allows the hummingbirds to visually locate the nectar-like they do when they look into a flower.
The unique design of our Mary's Feeders NJ-1 allows you to watch hummingbirds using their beaks and tongues within the tube so you can actually see the feeding process happen. Did you know a hummingbird's tongue can reach almost an inch past its beak?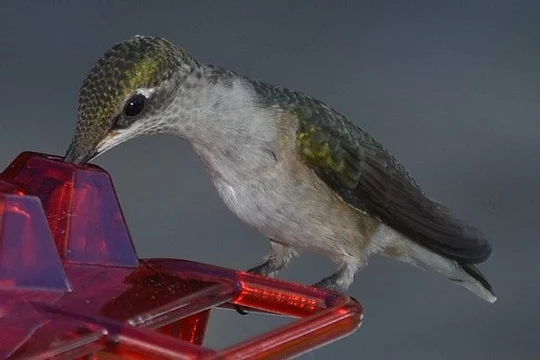 RIAN TEST FOR MARY'S SWEETY HUMMINGBIRD FEEDER
The uni-body design makes this feeder exceptionally easy to fill and clean. By using hexagonal raised diamond geometry of ports we are able to prevent bees from taking over the feeder which makes it even more desirable to your hummingbirds.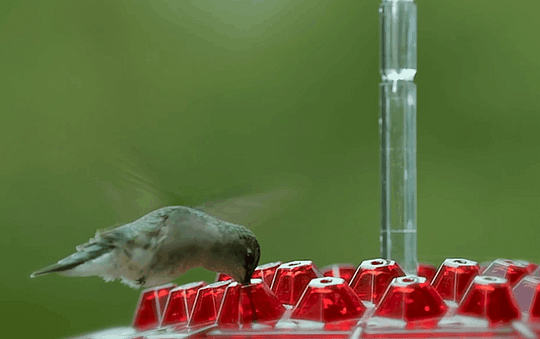 Each feeder has a 12 ounce capacity for Nectar
General dimensions (Red lid is 8 inches by 8 inches).  Nectar bowl is (6 inches x 6 inches)
Designed, Tooled, and Molded 100% in The United States of America
30 feeding ports (like real-life flowers)
Different facets (sparkles beautifully like a diamond in the sunlight to attract the hummingbirds)
Unique filling system (simply pour sugar and water into correct levels) no outside measuring
Or Easy outside filling (simply lift the lid and pour nectar in) if you prefer to fill with a pitcher of nectar
Extremely tough highest quality UV resistant polycarbonate material (made in the U.S.A)
Heavy-duty construction to last a lifetime (for durability and toughness)
Large hanger hook diameter for easy hanging anywhere
Dishwasher safe
Hexagonal raised diamond geometry of ports denies insects of nectar
Raised feeding ports prevent Rain from running into the bowl
Excellent for ornithology studies (30 ports simulate real-life flowers)
Lifetime Guarantee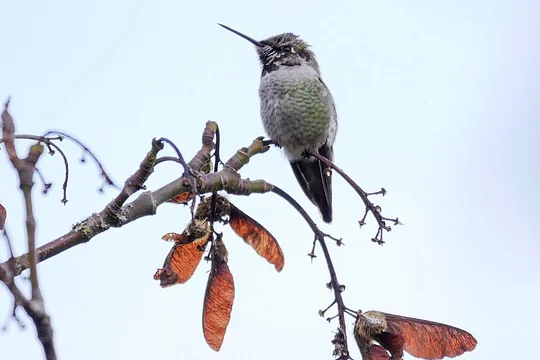 We designed this feeder to hold 12 oz of nectar (sugar water). Mary's Feeders hummingbird feeders are handmade in Wisconsin from impact-resistant plastics and they come with instructions for making your own nectar. Pair this feeder with our SCH-61 Suction Cup Bracket for up-close, 360-degree viewing. Expect a lot of activity!
Customer Questions & Answers
Question1: Will the lid fade from the dishwasher?
Answer: I have not had any problems with fading in the dishwasher at all after many years of use. I put it in the top rack. Very sturdy feeder that I like to give as housewarming gifts.
Question: What do I put into the most near the hangar?
Answer: Plain water. It helps keep ants from climbing down the hook into the feeder. Small birds like chickadees and nuthatches also use it to drink from.
Question: Does this come in a larger capacity
Answer: Yes, they have a larger feeder. I'm not sure of the capacity.
Question: What are the plastic dividers for?
Answer: The dividers are used to make clear sugar water. Saves measuring time. After taking the feeder apart, the two dividers are inserted in the clear plastic base The sugar is added between the two dividers. Then the hot water i
Question: Can orioles drink out of this or are the holes too small?
Answer: The holes are too small for orioles. Only sized for hummingbirds. By the way, yellow jackets cannot use it as well!
Question: We live in an awfully windy area – can this withstand a lot of wind gusts?
Answer: Yes by design the frontal area is very narrow and with the top in place if you look at it edgewise it is almost the same profile like an airplane wing. The hanger design is such that the feeder would have to reach over a 90-degree altitude to unhook. I have a customer in NC who states that her feeder hung out through two hurricanes. She said " I lost my roof two times but did not lose the feeder" Gen